You're looking to grill a nice meal, and baby back ribs seem to be on your mind ?
No worries, I've got you covered with an easy and tasty way to grill them, and you'll be king of the grill in no time !
What cut of meat to use for grilled baby back ribs
There are 2 main types of ribs you can use when grilling.
First, there are baby back ribs. The original cut, though they're only called baby because they're smaller than the second type (spare ribs).
Higher in demand, thus a bit more expensive. Less bone than the second type, and also less fat.
They're the most tender, but really both types will work well enough when grilling.
Second, we have spare ribs. These have a little more bone, and a bit more fat, which translates into a more delicious and flavorful meal, if you cook them right.
They're a bit cheaper than baby back ribs and larger, so keep this in mind when grilling for a large gathering.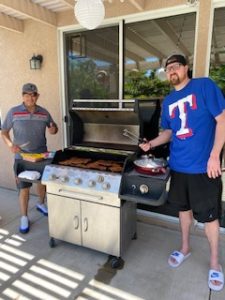 How to grill baby back ribs
This recipe uses actual baby back ribs. If you're using spare ribs, know that those are about 40% larger, and this recipe's ingredients will need to be adjusted.
The grilling time will also need more adjusting, as they will need more time. Regardless, here's how to grill them.
For grilled baby back ribs, you'll need about 4 lbs baby back ribs (feeds 5-6 people).
For the dry rub you'll need:
1.5 tbsp smoked paprika
1.5 tbsp brown sugar
1.5 tbsp salt
0.5 tbsp ground black pepper
1.5 tbsp ground mustard seeds
1.5 tbsp onion powder
For the mop sauce, you'll need:
1 stick unsalted butter
2 tbsp ketchup, spicy
1 tbsp smoked paprika
1 tbsp salt
2 tbsp apple cider vinegar (or lemon juice)
The day before grilling, start by thoroughly washing and patting dry the pork ribs. If you'd like them to cook better, try and remove the connective tissue on the back of the ribs.
In a large bowl mix all the ingredients, and then place the ribs inside the bowl. With your hands (feel free to use gloves) pat and rub the spices into every nook and cranny of the ribs.
Make sure you get every bit coated with the dry rub.
Once you're done, you'll cover this with saran wrap, touching the actual surface of the meat, to make sure no air escapes.
Leave it in the fridge overnight. If you don't have that much time, a minimum of 2 hours will be alright.
The next day, take the ribs out before starting the grill, so they get up to room temp.
Heat your grill to 230 F, and arrange your coals on one side of the grill. Keep the lid closed.
The ribs may have moistened in the fridge, that's alright.
When the grill is hot enough, place the ribs on the side of the grill that hasn't any coals underneath. If your grill doesn't allow that try and move as much of the heat source to one side.
This is because ribs need slow cooking, in order to get juicy and tender. If you put them over high heat, you'll end up with tough ribs, which will need lots of chewing.
So leave the ribs on the grill for about an hour, with the lid closed, undisturbed.
In the meantime, we need to make the sauce. In a saucepan melt the butter, and add in all the spices. Stir until you get a thick, glossy sauce. Set aside and keep warm so the butter won't harden.
After that hour, open the lid and check for doneness. They should be almost done, but require about 15-20 minutes more.
With a silicone mop, brush a generous amount of sauce on each side of the ribs. Close the lid again, and wait for another 10 minutes.
Brush the ribs again, as the first layer should be mostly dry by now. Close the lid again.
Finally, get a fork and test for doneness, again. It should slide right into the meat, without any resistance.
The sauce should be a bit sticky now, so feel fee to slather on another layer and plate them up.
If you used spare ribs, know that it might take 2 hours for the ribs to be done.
Tips for grilling baby back ribs
Grilling baby back ribs isn't rocket science, but you do have to be careful about a few things.
Mostly it's knowing when the meat is almost done, so you know when to slather on the sauce, as this can't be done when the ribs are still cooking.
If you want very juicy and tender ribs, you're going to need a very low flame, and to have a lot of patience. High heat will contract the muscle, and it will only harden the meat, make it tough to eat.
Slow roasting/grilling will ensure you get a tender rack of ribs.
Scoring the meat will help cook it faster, if you're in a hurry. Even slicing down the side of the ribs, all the way to the spine, will make the ribs cook faster since they will separate easier.
For very flavorful ribs, you're going to want spare ribs. Those are meatier, have more fat, and have more bone as well. They're a bit harder to grill, since you're going to need to adjust the grill time for their size.
If this is your first time grilling ribs, I recommend you go with the baby back ribs, since they're easier to handle.
There are a few things you can do, aside from figuring out which ribs to use as well.
Feel free to marinate the ribs before grilling
If you really, really need tender grilled ribs, then you need to marinate them.
This is done mostly so the meat will remain tender, and also replace a dry rub (for the most part).
When marinating, you're going to let the ribs sit in there for a whole day before grilling them.
An example of a good marinade for grilled baby back ribs would be (for 4 lbs of ribs):
half cup beef stock, or 2 beef boullion cubes
5 tablespoons apple cider vinegar (or lemon juice)
5 tablespoons vegetable oil (I recommend olive)
2 tablespoons smoked paprika
2 tablespoons brown sugar
5-6 crushed garlic cloves
1 roughly chopped onion
2 tablespoons mustard seeds, powdered
1 tablespoon salt (the stock has salt)
1 tablespoon black pepper
Remember, this mostly replaces the dry rub. The flavors will have time to penetrate the meat and make it nice and savory to the bone.
The marinade will also tenderize the meat, as the vinegar (or lemon juice) is a mild sort of acid. The meat will remain tender, since the vinegar will very slowly break down its bonds.
This method also works with red wine, but it wouldn't suit grilled ribs.
Now, get a very large bowl, and mix all the ingredients. Place inside the bowl (and marinade) the ribs, and make sure to completely cover them.
If you've got good, large Ziploc bags, use those instead of the bowl. Add the ribs in the bags, evenly distribute the marinade in each bag, and do your best to push out all the air in those bags before closing them.
But if you're using a bowl, you just need to saran wrap it very well, and make sure no air escapes.
Whichever method you're using, you need to store the meat in the fridge for up to 24 hours. A minimum of 8 is needed.
Once you're ready to grill, remove from the marinade and pick off any large ingredients, like onions or garlic.
You will still need a mop sauce, but the dry rub is optional in this case. The meat should be well seasoned enough with the marinade.
Don't be afraid to use aluminium foil
If, again, you want very tender ribs, then using aluminium foil will get you there faster.
Wrapping your already seasoned ribs in thick aluminium foil, and then grilling them for the better part of 40 minutes in said foil is going to keep the moisture inside the meat.
After those 40 minutes, you can remove the aluminium foil and grill as usual. Any drippings or accumulated juices of the cooked meat can be added to the BBQ mop sauce.
Of course, you can do this without the aluminium foil, but it's the surest way to keep the ribs moist.
Conclusion
Grilling baby back ribs is a nice way to serve up a big meal for the whole family, and it's always well received.
However grilling the ribs well enough that they're both tender and well done require a bit or skill and practice, so feel free to experiment next time you fire up the grill.
You might find a way of grilling pork ribs that suits you even better than this recipe.